WooCommerce Docs
Documentation, Reference Materials, and Tutorials for your WooCommerce products
Cloud Zoom
Installation ↑ Back to top
Download the .zip file from your WooCommerce account.
Go to: WordPress Admin > Plugins > Add New and Upload Plugin with the file you downloaded with Choose File.
Install Now and Activate the extension.
Setup and Configuration
Enable / Disable Professor Cloud to Enable and then hit save, Image Zoom will now be working for you on the single product page.
Image tips ↑ Back to top
For Image Zoom to be effective you should have access to good quality images of a sufficient size that your customers can really see the detail.
A good image minimum size would be 600px x 600px when you load them, preferably much larger, if your images are all 300px x 300px you aren't going to benefit from the Zoom effect.
Customizing the Zoom window ↑ Back to top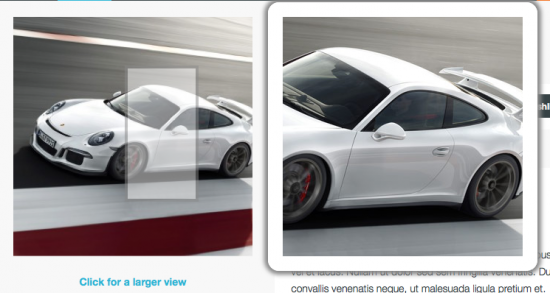 If you want to change the styling of the Zoom window you can override the default CSS file – you should always use this method to avoid losing your changes when you upgrade
To use your own version of the CSS file instead of the included CSS please do the following
In your theme folder (wp-content/themes/YOUR-THEME-NAME/) create a folder called professor_cloud
Copy the existing CSS file into that folder (you end up with wp-content/themes/YOUR-THEME-NAME/professor_cloud/woocomm-professor-cloud.css )
Now edit the woocomm-professor-cloud.css file to your hearts content
Trouble Shooting ↑ Back to top
Constant 'Loading…' on the main image
Deactivate the scaling option in the Image Zoom settings, this issue is caused by TimThumb permissions being incorrect. If the Zoom works with scaling off them you should use it that way, if you need TimThumb for Zoom to work then you will need to access the directory via FTP and change the folder permissions.
The Image Zoom script file is one of the last to load which means it is vulnerable if another script causes an error. If the zoom is not working then you should load the page again with the console open and look for errors.
If there are no errors go to: WP Admin > WooCommerce > Settings > General > Products > Display > Product Images. Make sure that Enable Lightbox is checked.
Multiple copies of the main image in the Zoom window
Basically your main image is too small. Version 2.0.0 of Image Zoom has rectified this by stretching the image to fit the window but you should load bigger images to avoid distortion
Questions & Support
Have a question before you buy? Please fill out this pre-sales form.
Already purchased and need some assistance? Get in touch with a Happiness Engineer via the Help Desk.
English (UK)
YITH WooCommerce Zoom Magnifier
Description
Improve the user experience, improve your sales
Offer to your visitors a chance to inspect in detail the quality of your products. With YITH WooCommerce Zoom Magnifier you can add a zoom effect to all your product images.
The WordPress plugin also adds a slider below the featured image with your product gallery images.
Main features
Show a bigger size product image on mouseover.
Customize zoom area width and height and the size of the image to show as zoomed image.
Enable or disable it on mobile devices.
Add a slider showing product image thumbnails.
Customize the slider behavior.
For a more detailed list of options and features of the plugin, please look at the official documentation.
Discover all the features of the plugin and install it in your theme: the result will be extremely satisfying.
Suggestions
If you have suggestions about how to improve YITH WooCommerce Zoom Magnifier, you can write us so we can bundle them into YITH Zoom WooCommerce Magnifier.
Translators
Available Languages
English (Default)
Italian
Spanish
If you have created your own language pack, or have an update for an existing one, you can send gettext PO and MO file
use so we can bundle it into YITH WooCommerce Zoom Magnfier Languages.
Documentation
Full documentation is available here.
Screenshots
The General plugin settings page. You can disable the plugin for mobile devices.
The Magnifier settings page. Choose the size of the zoom area, the size of the image to be shown in zoom area and the its position (on the right or over the image).
The slider settings page. You can choose to use the slider for product image thumbnails, set how many images to show within the slider, and the behavior of the slider, choosing if circular, infinite or standard carousel.
The zoom applied to a product image, showing zoomed image on the right side.
The zoom applied to a product image, showing zoomed image over the same image.
Choose how many items the slider should show, the image thumbnails will fit the available width.
Installation
Important: First of all, you have to download and activate WooCommerce plugin, which is mandatory for Yith WooCommerce Zoom Magnifier to be working.
Unzip the downloaded zip file.
Upload the plugin folder into the wp-content/plugins/ directory of your WordPress site.
Activate YITH WooCommerce Zoom Magnifier from Plugins page
Configuration
YITH WooCommerce Zoom Magnifier will add a new tab called "Zoom Magnifier" in "YIT Plugins" menu item. There, you will find all Yithemes plugins with quick access to plugin setting page.
Zoom on Hover on WooCommerce Product Page Not Working
Home Page › 8DegreeThemes Forum › Free Themes › EightStore Lite › Zoom on Hover on WooCommerce Product Page Not Working
Since the 3.0 release of Woocommerce, the default behaviour of a user hovering over the main product image is to zoom in on the image.
However my installation isn't doing that – nothing happens
I can't find anything in customiser or woocommerce settings to turn this on or off and wondered whether it had been turned off as part of the theme (I believe from another theme developer that this is possible)
Is zoom on hover turned off in this theme and if so, how do I turn it back on – and if not, can you help figure out why it isn't working
Sorry for missing this,
I just got to check your site and found the hover zoom working fine in yours.
I check this link : https://thehappyhousesitter.com/product/im-only-happy-when-im-house-sitting-samsung-phone-case/
Let me know if it is not working in yours, try clearing cache.
I've checked out the product you tested and a few others too.
What is happening is that the zoom works for a couple of seconds and then stops – whether you keep the mouse within the image boundary or move it to elsewhere on the page.
Refreshing the page doesn't do anything – the zoom still doesn't work.
The only way is to exit the page e.g. to another product and then return – but then the same thing happens. The image zoom works for a couple of seconds and then stops.
Which browser are you using and which version, I tried as you said keeping the mouse over for 30 seconds with zoom working as it should.
I am using: Google Chrome Version 67.0.3396.99 (Official Build) (64-bit) – Latest
Yes it does have a lag if you change the image from the bottom thumbnails but it also works fine after getting loaded.
Version 67.0.3396.99 (Official Build) (64-bit) is what I am using too.
I will try a different browser and let you know
I've tried in Microsoft Edge too and I am having similar problems in that browser too.
Hmm very strange.
I guess there must be something else beyond my browser that is causing the problem.
I'll look at mouse drivers etc.
You must be logged in to reply to this topic.
Our New Release – Eight Degree Pro
Eight Degree Pro is a flexible WordPress theme with modern and mobile friendly design. This multipurpose WP template is suitable for building any kind of websites from blogs and portfolios to businesses. It comes with 3 predesigned demos with one click demo import features. Simply import the demo data and start customizing.
We've Launch offer 40% discount to our exclusive clients like you! Use coupon code customer during checkout. Get the theme only for $33 now (only for few days!)
Click on the below image for more detail.
Please post your questions in the respective forum above.
All questions related to our Pro theme will be answered in less than 24 hours. All questions related to our Free theme will be answered in less than 48 hours.
Our Facebook page is the best place to get updated with themes, documentation, question/answers. Please like us here: