WooCommerce. How to set up Related, Up-Sells, and Cross-Sells products
This tutorial shows how to set up Related, Up-Sells, and Cross-Sells products in WooCommerce.
In the WooCommerce admin area when you are editing the product data there is a "Linked Products" Tabs are user interface elements. Each tab has its own content and only one tab can be accessed at the same time. Users can open content of a particular tab by clicking on this tab. So, a user can access different content in the same window. Such way of content representation allows placing more content into a single page. Please check the screenshot with tabs below:
" class="glossaryLink " >tab . Products can be related to each other in three ways: Up-Sells, Cross-Sells, or by having the same tags or categories
Up-sells are products which you recommend instead of the currently viewed product, for example, products that are more profitable or better quality or more expensive. Depending on your site's template these products will display on the single product page underneath the product's description.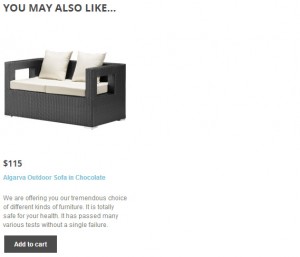 II. Cross-Sells
Cross-sells are products which you promote in the cart, based on the current product. Depending on your site's template they will display on the cart page underneath the cart products table with a Thumbnail is a small representation of the original image uploaded to the site.
When you upload a new image into your site, most engines automatically generate copies of that image in different sizes to display them on different occasions and on different devices. Basically, thumbnail is a smaller version of an image:
" class="glossaryLink " >thumbnail image.
III. Related Products
Related products is a section on some templates that pulls other products from your store that share the same tags or categories as the current product.
These products can not be specified in the admin, but can be influenced by grouping similar products in the same category or by using the same tags.
Example 1. Product Page
Here is an example product page using the WooCommerce theme that shows the Up-Sells and the Related Products. Each time the page is reloaded the products shown in the "Related Products" section will be different.
Example 2. Cart Page
Here is an example cart page using Woocommerce theme and showing cross-sell items.
Feel free to check the detailed video tutorial below:
How To Set Up Grouped Products in WooCommerce
What Are Grouped Products in WooCommerce?
WooCommerce has the option for Grouped Products, a collection of related products that are displayed together that can be purchased separately as well, with slight variations in the product appearance or specs. An example of this would be if you had a piece of hardware, like an external hard drive, with different sizes of storage space.
Creating a Grouped Product in WooCommerce
In order to create a Grouped product, you have to have created one of the other three types of products: Simple Product, External/Affiliate Product or Variable Product. With any combination of these you can create a Grouped Product. Just add a new product and choose the Grouped Product from your Product Data.
Adding Products to Your Grouped Product
Go to the Linked Products tab and type in the names of the simple products you want to add to the grouped product.
Ordering Your Grouped Products
You will likely want to have them in a particular order on the front end. This is easy to do. Once you have added them, just drag and drop.
Attributes With Your Grouped Products
With any product, you can create attributes. They are commonly used with Variable Products. An attribute is really a taxonomy, like categories, where you can assign them to a product. An example of common attributes would be clothing as the product, and size and color as attributes. Again, you can add these to your Grouped Products.
As with attributes, the settings under Advanced are the same for all kinds of products and are not specific to Grouped Products.
This is what you will see on your site with your Grouped Products.
Use These Extensions to Get Creative with Grouped Products
The built-in option to create Grouped Products will cover most needs. But in case you want to go a step further, here are some ideas beyond the basics.
Create and Customize WooCommerce Product Bundles or Boxes
Do you lime to bundle some of your products in your WooCommerce shop? Even better, would you like to give your customers the option to create their own bundles?
Think of it this way. When you go to a salt water taffy shop, they often let you choose what to put in your sack. There's nothing worse than getting a few of those licorice taffies when you cannot stand the taste of them, right? Imagine giving your customers the same options in your online store. Check out the post here on Customizing Product Boxes for WooCommerce.
Customize Your Grouped Bundles and Sell More
By offering pre-selected or customizable bundles at discounts, you can get more sales. This extension lets you quickly build complex products or create simple discounts by mixing simple and variable products. Subscriptions and downloadable/virtual products are also supported. You can learn more about this extension here.
Offer Product Kits Customized by Your Customers
Do you have products that you would like your customers to build themselves through kits? The Composite Products extension allows you to create complex, configurable product kits that customers can build for their own personalized versions. Examples of this may be kits made up of multiple components such as skateboards, custom computers, made-to-order jewelry or gift boxes. Learn more about it here.
Mix and Match Products
This is a different approach as you are creating what is called a product container and adding simple and variable products to it. There is no limit. The products can then be shipped together in a package or separately, as well as available for pick-up. An example would be if you are selling a variety, say, 15 muffins. The customer gets the final choice of which ones and how many. You can learn more about it here.
Chained Products
This is just what it says. You can chain additional products such as simple/downloadable and variations to a main product. They are visible and listed on the main product. When the main product is added to the cart, the chained products are automatically added with zero cost, which makes them free if someone buys the main product. Of course, they can be purchased separately as well.
Essentially the customer only pays the price of the main product. Let's take the example I did for the Grouped Products above. We could sell the Rode Podcaster mic and add the shockmount for free. An incentive for your customer to get a free accessory (or if you want a reduced price for both) with this extension.
Force Sells
This option shows products on the main product page as linked. They are added simultaneously to the cart, thus the name Force Sells. They do not allow the customer to remove them. An example of this could be a service, like adding RAM to a Mac. They purchase it as a service, and the memory upgrade kit is automatically added. You can learn more about Force Sells here on our post.
Managing Your Product Shots
Creating a an online store can result in one heck of a lot of product images, and with updating and organization, you can get lost in the WordPress media library. I would check out our post on this plugin that gives you the control of using folders and filters to organize all your media including your WooCommerce product images.